Hello all,
As a French ASIC/SoC Design company, Cortus is currently designing a SubGHz SoC for User Equipment. In this context, Cortus is looking to develop/integrate a full Wi-SUN network stack based on RIOT. At a first stage, we want to get confirmation about what can be leveraged natively on RIOT to fulfil the Wi-SUN requirements, but also, to point out what is precisely missing.
As an early adopter of RIOT, we are ready to contribute for advancing the RIOT's state of the art if this Wi-SUN support makes sense for the whole RIOT community. As a preliminary, you can find below the WI-SUN architecture: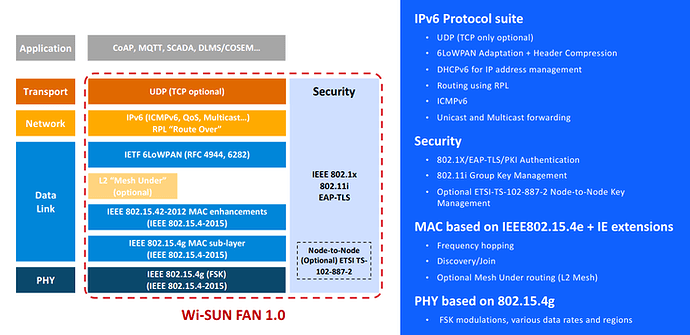 Ideally, we are looking to leverage a maximum number of native components from RIOT, and we came to the following mapping:
UDP Transport layer → gnrc_udp module
Network layer → gnrc_ipv6 / gnrc_icmpv6 / gnrc_rpl modules
Data link layer → gnrc_sixlowpan and gnrc_netif_ieee802154 modules But we don't know how far the current gnrc_netif_ieee802154 supports 802.15.4e with IE extensions as listed below:

Radio Frequency Identification Blink (BLINK)
Asynchronous multi-channel adaptation (AMCA)
Deterministic and Synchronous Multi-channel Extension (DSME)
Low Latency Deterministic Network (LLDN)
Time Slotted Channel Hopping (TSCH)
Low Energy (LE)
Information Elements (IE)
Enhanced Beacons (EB)
Multipurpose Frame
MAC Performance Metrics
Fast Association (FastA)
From our understanding, gnrc_gomach module should support the "Time Slotted Channel Hopping (TSCH)". Is that assumption correct ?
As for the MAC sub-layer can we use dev_ieee802154_submac module, is it 802.15.4g compliant?
On the security side, we know about the latest introduction of the IEEE 802.15.4 security module. But is that enough to fullfill Wi-SUN security requirements?
On the PHY layer, we are using our own netdev driver dedicated to our SoC (which shall remain private) but we are willing to enhance a netdev driver (eg Atmel AT86RF2xx driver) to fully support the specification 802.15.4g and to enable a Wi-SUN capable platform supported by RIOT.
Before submitting a feature request related to this Wi-SUN support, we would appreciate to get your first feedback in order to clarify and consolidate our project and roadmap.
Thank you in advance,
Christos and @Mattheouus